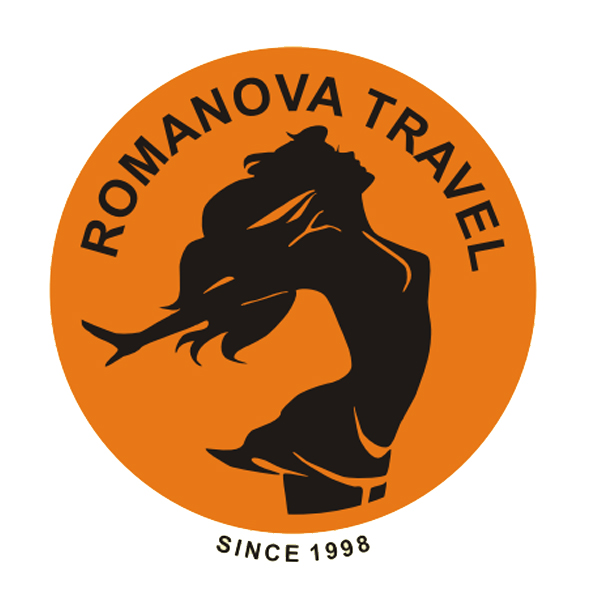 ROMANOVA TRAVEL is a transportation and travel company and a leading global multi-faceted tour operator dealing with internal, inbound and outbound tourism. The Company's registry number is МВТ 005375. The Company is a member of the Russian Union of Travel Industry, as well as of the Travel Association "World without borders" (CHINA FRIEDNLY) and a Tour League of Nizhny Novgorod. The Company is accredited to European Union countries' embassies.
Since its establishment in 1998, the company has been operating on the travel services market. For numerous clients and partners, its brand has become associated with reliability and quality of tourism services. The company is the leader in tourism industry of Nizhny Novgorod. It also offers a great number of excursion programs in the Nizhny Novgorod and Vladimir regions (The Golden Ring).
ROMANOVA TRAVEL is well known in the tourism industry for organizing guided tours through Russia and Europe. It is also well known as host company for Russian and foreign tourist groups and individual tourists in Moscow, St. Petersburg, Kazan, the Nizhny Novgorod and Vladimir regions. The Company also arranges excursion trains to Russian cities. The company sells up to 70% of its tourism programs through a partner network. The remaining part is sold via the Company' own retail chain.

The Company's offices are located both in Russia and abroad: in Moscow (1) St. Petersburg (1) Vladimir (1), Nizhny Novgorod (3), Dzerzhinsk, the Nizhny Novgorod region (3).
ROMANOVA TRAVEL successfully operates and develops as an international transportation company.
---
ROMANOVA TRAVEL INTERNATIONALTRANSPORTATION COMPANY
---
ROMANOVA TRAVEL is an international transportaion company. It has its own bus and car fleet represented by the newest models such as MAN Lion's tri-axle coach, МERCEDES BENZ, SETRA, HIGER, KING LONG travel coaches, MERCEDES BENZ sprinter and VOLKSWAGEN crafter minibuses and BMW, AUDI, MERCEDES BENZ, LAND ROVER, VOLVO, LEXUS, TOYOTA, HYUNDAI luxury cars.
The Company provides passenger carriage on bus and customized routes both in Russia and abroad. It also provides services in car hire with driver. The Company sells bus tickets for its bus routes through well-developed partner sales network including travel agencies; the costumers do not have to purchase a tour package. The customer can buy only a bus ticket and make their own bus route, while ROMANOVA TRAVEL will provide safe and high-quality transportation services.
From January to March 2014, the Company's bus fleet has been basing in the Olympic Park of Nizhneimeretinskaya Bay (Adler,theKrasnodar region). ROMANOVA TRAVEL carried out transportation services for ANO Olympic Committee, marketing partners of the Winter Olympic Games in Sochi. During the Sochi 2014 Winter Olympics, the Company has also been involved in transportation of the Winter Games operational staff.
---
SPECIALIZATION OF ROMANIVA TRAVEL TOUR OPERATOR
---
DOMESTIC TOURISM
The company offers an opportunity to create your own tour. It also arranges excursions through Russian cities. Excursions through the Golden Ring, Moscow, St. Petersburg, Nizhny Novgorod, Sochi, Kazan, and to the Republic of Belarus. The Company offers its customers a variety of recreation programs and resort treatment, including package tours and bus tours to the coast of the Black Sea and the Azov Sea. Within these programs, the customers can visit resort towns and villages of the Krasnodar Region (Anapa, Kabardinka, Gelendzhik, Novomikhailovskoye, Tuapse, Lazarevskoye, Dagomys, Sochi, Adler, and others), of Crimea (Sudak, Feodosia, Koktebel, Alushta, Yalta, Simferopol, Gurzuf, Evpatoria) and Abkhazia (Gagra, Sukhum, Pitsunda).
In 2005, ROMANOVA TRAVEL was among the first Russian travel companies to be actively involved in railway tourism. Currently, it arranges on a regular basis special tourist trains from Moscow to Nizhny Novgorod, Kazan, Kirov and Ulyanovsk. The Company is a host tour operator meeting tourist trains arriving from Moscow, Samara and St. Petersburg to various Russian cities. Every year during the New Year and Christmas holidays, the Company arranges direct trains to Velikiy Ustyug to the residence of Father Frost, the grand Russian winter magician.
ITERNATIONAL INBOUND TOURISM
The Company meets foreign tourists in Russia and arranges excursion programs in the cities of the Golden Ring, as well as in Moscow, St. Petersburg, Suzdal, Sochi, Nizhny Novgorod, Vladimir, Kazan, Kaliningrad. The Company offers its foreign guests a wide range of travel services, including tours to the former republics of the Soviet Union. The Company provides foreign tourists visa support. You can always find new, interesting and diverse tour offers in the English and Chinese versions of the website.
ITERNATIONAL OUTBOUND TOURISM
The Company arranges excursions and tourist trips to different countries: China, Thailand, Vietnam, Singapore, Indonesia, India, Europe, the Baltic States and Scandinavia. It also offers a huge selection of different excursions through cities: Beijing, Shanghai, Suzhou, Hong Kong, Hainan Island, Lithuania, Latvia (Jurmala), Estonia, Finland, Poland, Hungary, Czech Republic, Sweden. The company provides foreign tourists visa support and develops customized trips around the world.
---
OUR CUSTOMERS AND PARTNERS
---
We stand proud to have such customers!
First of all, our customers are the highly-cultured travelers for whom vacation and travel form an integral part of life.
Every year thousands of loyal customers, governmental organizations and private institutions use our services. Among our regular customers are ANO Olympic Committee, ANO Transport Directorate of the Olympic Games, ANO United Transport Directorate, OJSCIngosstrakh, OJSCLukoil, OJSCGazprom, OJSCSberbank of Russia, OJSCSibur, OJSCRussian Railways, the Government of Moscow, city administrations of the Moscow region, the Government of the Nizhny Novgorod and Vladimir regions, the Patriarchate of the Nizhny Novgorod region, and many other customers and partners. We are very proud of our customers and feel gratitude towards them.
---
ROMANOVA TRAVEL TEAM
---
Our team is the Company's foundation upon which all the work is based. This allows us to keep moving forward. Our employees are professionals in the tourism industry who made their choice in favor of working with people. Our drivers are mindful, self-confident and experienced workers who completed special training courses at MAN BUS & TRUCK. Our team is built up of a group of well-trained, intelligent and amiable experts. Today we create a tourist product called "journey" and share with our customers numerous kilometers of trips throughout our wonderful planet.
ROMANOVA TRAVEL's top managers are included in the best managers of Russia ranking, and inthe Volga region, they are in the Nizhny Novgorod region top twenty.
Official TOP-1000 by Komersant here >>> by the Russian Association of Managers and the Kommersant publishing house here >>> Kommersant publishing house here >>>.
---
WHY ROMANOVA TRAVEL? OUR ADVANTAGES
---
We do our best because we take pleasure in delivering our services. Our business is based on a deep knowledge of the country wherein we work. We will always remain honest and sincere in our business. What is more, we always strive to find a tour suitable for every client.
We have been working on the Russian tourist market since 1998 and now our company is one of its leaders, which is confirmed by numerous awards and recognitions. The Company holds strong positions on the market of tourist and bus services. We own the newest bus fleet and sales offices in major cities of Russia.
We guarantee you the best price for your trip, as we are both a transport company and a tour operator. In other words, you purchase your tour from the "tour manufacturer". All prices which are indicated in our proposals do not include various fees for intermediary services and extra charges.
As a tour operator, we insure our civil liability according to the Russian Federal Law No 132-FZ and maintain an agreement on the compulsory insurance of the civil liability of the tour operator for the improper performance of its obligations. It is mandatory for a tour operator to be included into the Federal Register of Tour Operators of Russia. Our number in the State Register is МВТ 005375.
Asa carrier, we insure each passenger according to the Russian Federal Law No. 67-FZ and maintain an agreement on the compulsory insurance of the civil liability of the carrier for damage to life, health and property of passengers. We provide international and inter-city bus services.
We do not save on our vehicles, that is why our fleet is the best and fresh.
We are always concerned about road safety. All our vehicles are equipped with electronic tachographs, which allow us to control drivers' working time on the route. Maintenance of our vehicles is carried out only in MAN BUS & TRUCK, HIGER, MERSEDES BENZ and VOLKSWAGEN specialized technical service centers.
We have equipped all our buses with an alarm system, connected to the EMERCOM panel via GLONASS/GPS (according to the Order of Ministry of Transport of Russia No. 285 of 31.07.2012). All our vehicles are under regular control.
We have a and we're to use our transportall over the world. Our company has all permits for providing passenger transportation. ROMANOVA TRAVEL provides customers with all the necessary information about the transport as the company operates transparently and honestly.
We have amassed a wealth of experience in passenger transportation. We have gained a reputation of a reliable tour operator. And thus we can proudly assure that our product is the best on the market.
---
OUR PHILSOPHY
---

honest and sincere attitude toward our customers and partners;

openness andfocus onlong-term cooperation;

maintaining the Company's goodwill;

competence and development.
---
OUR MISSION
---
We work in order to please our customers by offering them the best travel solutions!
---
OUR GOAL
---
Our goal is to create the best international transportation and travel company and offer exceptional services at reasonable prices.
---
OUR MOTTO
---
From short trip to greatjourney. Escape your daily routine!
Warmest regards, ROMANOVA TRAVEL team